Recently I've been asked to answer the question on Quora:?What is the best Bluetooth beacon manufacturer??As I was writing my answer I was beginning to realize that I got this question every day for the last 4 months from our customers since the launch of Beeem.
To elaborate on this matter further, I'd like to take this opportunity to give everyone a rundown of what our team has experienced with beacon manufacturers in commercial deployments.
Please note: We're not affiliated with ANY beacon vendor, nor do we hold any stake in them or make any money directly or indirectly on beacon hardware sales.
We at Beeem have worked with most Google Eddystone certified beacon vendors (and a few that are not) and our mobile engagement platform is in use with most likely all types of Eddystone beacons, QR codes and NFC tags.
The best beacon for any job is always down to the details: project requirements, deployment and servicing issues and of course cost! Let's get down to the details!
Things should take into consideration when selecting a beacon:
1. Battery life
Thankfully as the new chipsets are getting better and better, battery life seems to be a non-issue finally. We get 14 months battery life with the EMBC01 from EM Micro and even the Radbeacon DOT lasts close to a year. The Location beacon from Estimote promises 7-year battery life (if the batteries last for that long, of course).
2. Casing of the beacon (in the case of outdoor deployments)
Sometimes we see people forgetting about having weather proofing beacons in mild climate areas such as Florida and around the Mediterranian in Europe. Even though you'd think you're covered with the mild weather, the occasional storm will wipe away your fleet! Saving the $15-17 on the hardware is simply not a good idea here.
3.?Mounting and deployment issues
Let's start off with theft and vandalism. Even though a beacon is not expensive, some people are just curious and may just strip you of a beacon. This is a real issue as was the case for the Google-funded?pilot in Manchester, UK. You have to keep in mind that you don't only use the cost of the beacon hardware but the cost of the deployment as well. Also, access to dropped ceiling is a real must in a lot of indoor deployments.
4. Direct and indirect costs
Make sure customs issues are resolved well in advance and you know what part of the world the beacons are coming from! This is an issue with the Chinese vendors mostly but has been a showstopper for transatlantic deals too. Also, don't forget about shipping costs!
5. Pre-configuration, labeling options and cost of these services
For pre-configuration we've seen anything from $0 to $5 / beacon. This gets bigger and bigger as your deployment size is increasing. Doing a few beacons might not seem like much but once you're into the dozens you'll just spend hours and days with pre-configuring and labeling that might otherwise have been prevented. Beeem's zero-configuration concept comes in really handy here: you get the beacons cloud-connected to your account so all the work will be done in the cloud!
6. Shipping and customs time
A rarely considered aspect of beacon deployments. We've seen dozens of projects where neglecting this aspect caused issues from delays to projects going down! Calculating with the necessary buffers for customs duties is always an issue with large orders. For a single beacon, you might be under the threshold of your country but you can never be sure.
Types of beacons for commercial deployments (and where you can go wrong with them):

A. Coin cell battery powered
The holy grail of beacons. Most of the beacons you know come with coin cell batteries. Did you know that batteries for some very high-profile beacons are very hard to get in most EU countries? Please check if you'll have the ability to get new batteries at a reasonable cost!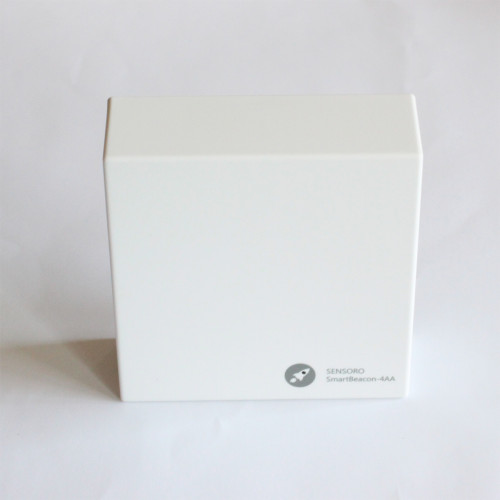 B. AA or AAA battery powered
Did you know that the cost of your beacon hardware might double when you have to get or replace a battery? With some beacons, you'll have the ability to recharge batteries this way to save some cost.
C. USB powered or pluggable
The smallest and least expensive beacons (at least in bulk) are these little things. A lot of vendors have them, but there are a few things to note with them in deployment: on the positive side, most POS terminals or countertop PCs have a USB slot to work with. But if you need to get a USB adapter, make sure your price is right!
D. Solar powered
A few vendors offer this option. Please note, that you should be all right under ambient lighting as well with these devices! Too good to be true? Probably, because the price point for these devices is way too high to justify the typical large-scale deployments.
E. Tags
A handful of manufacturers offer beacon products that are geared toward mobility. These tags come with significant trade-offs in flexibility and battery life but can be very convenient to use! Furthermore, in 2019 an Israeli-American startup called?Wiliot will be launching a passive Bluetooth beacon product!
Finally, our top choices for commercial deployments based on our own and the experience of our customers (in a random order):
Radius Networks
EM Microelectronic
Minew
BlueUp
Kontakt.io
Estimote
SENSORO
Accent Systems
Honorable mentions go out to iBlio, they are not certified/featured by Google but produce excellent hardware and to Wiliot for working on most likely the biggest leap in beacon tech!